Rokna:President Donald Trump invited his family on stage with him during his fourth rally of the day in Kenosha, Wisconsin, on Monday, where he warned that Democrats will 'loot and rob' if Joe Biden doesn't win the election.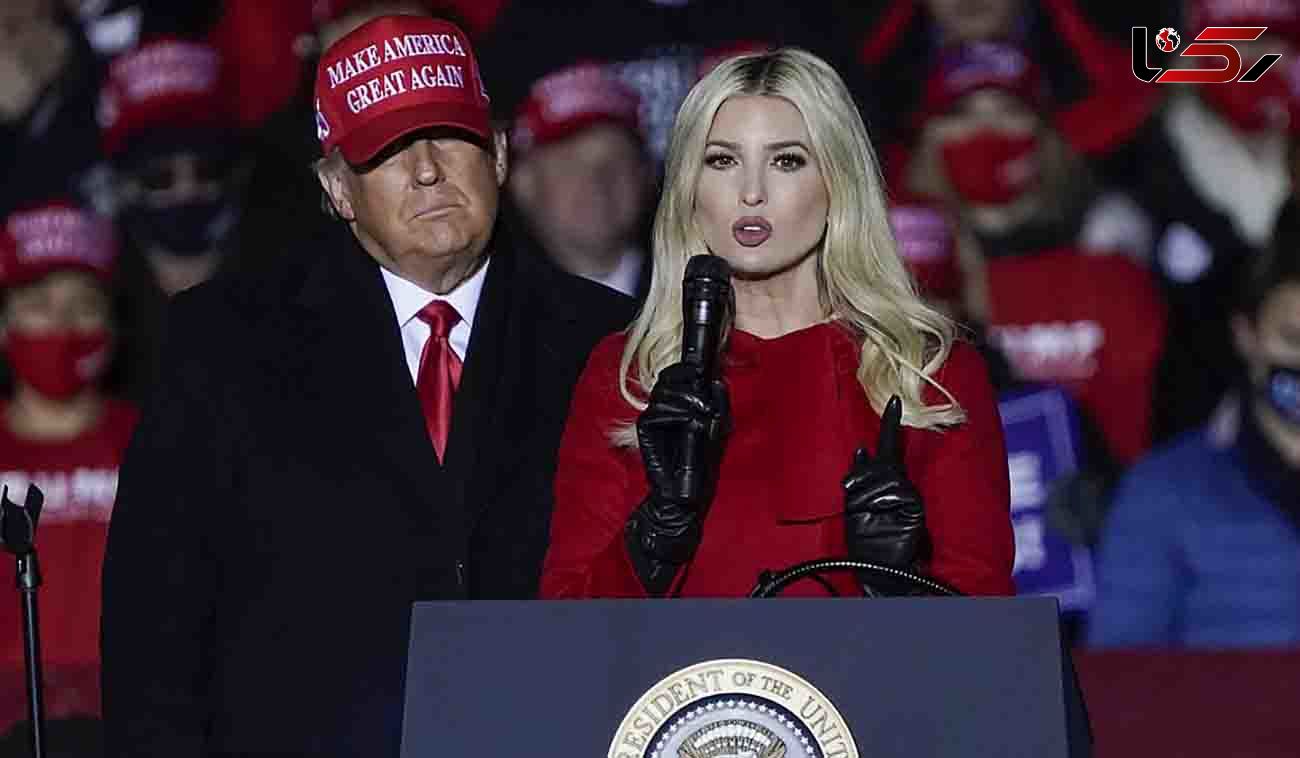 Trump told the Kenosha crowd that 'we brought law and order' to the city and Democrats were 'waging war on our police' after a string of protests.
'When the violent mob imposed on Kenosha, Biden didn't want to send in the National Guard but we sent in the National Guard,' he said.
'Biden's far-left supporters are threatening to loot and rob tomorrow if they don't get their way. Rioting, looting, arson will be prosecuted to the fullest extent of the law. I'm telling you that right now.'
On a lighter note, Trump thanked his family for their tireless work on his campaign as he predicted 'a blowout win' on Election Day. All of his adult children watched him speak from the side of the stage: Donald Trump Jr and his girlfriend Kimberly Guilfoyle, Eric Trump and Lara Trump, Tiffany Trump, and Ivanka Trump and Jared Kushner.
'They're all campaigning hard,' the president said of his kids, who joined him on stage at various points in the night. 'I have a great family. They're working so hard.'
Ivanka took the microphone from her father to encourage people to hit the polls on Tuesday, saying: 'He never forgot who he is fighting for – you. Washington has not changed Donald Trump. Donald Trump has changed Washington. It's true. It's true. And there's more to come.'
'Thank you sweetheart,' Trump told his oldest daughter.
Trump battled problems with his microphone throughout the course of the Kenosha rally, with the sound dropping so low that the crowd couldn't hear him.
'Turn it up. Turn it up,' the crowd of a few thousand shouted.
'Can you hear me?' the president asked as the crowd yelled back 'no.'
Trump seemed relieved the microphone was the reason for the lack of crowd reaction to his speech. 'I thought they didn't like me,' he said.
A staffer came on stage and gave the president a handheld microphone.
'I always said I want the perfect mic,' Trump said of it.
'We're supposed to pay these people, right?' the president joked of the mishap. 'I won't pay the bill of the company that does this crazy microphone, and they'll do a story, 'Trump is a horrible human being, he doesn't pay a bill.' No, I don't like to pay bills when people do a bad job.' But he then agrees he will because it's a Kenosha-based company.
The president used the microphone incident to tout his health, referring to an incident from this summer, when his hand shook during a commencement speech at West Point when he tried to hold a glass of water. He also said he drank water that way so he wouldn't spill it on his tie as the tie was expensive.
'So now by holding a mic all night long like this you're gonna say well there's nothing wrong with that right hand,' he said.
But he added in an attack on rival Joe Biden: 'Some day I may – like Joe.'
The president sounded tired at his last stop and his frustration with the audio situation showed.
'This is the worst mic I've ever used in my life,' he said of his handheld. 'Can you actually hear me?'
'I have a microphone that was obviously meant for congressmen and senators. Not for presidents,' he said of it.
At his fourth rally, Trump admitted he's closing his 2020 campaign like his last successful presidential bid because he's a little bit 'superstitious.'
The president will hold the last rally in Grand Rapids, Michigan, the same place he closed out his 2016 campaign.
'I'm a little bit superstitious,' he told supporters at in Kenosha, Wisconsin. It was his fourth rally of the day and last one before he left for the Michigan event.
'Could Joe really win,' he mused.
He pointed out it was 'there four years ago' that he concluded his victorious presidential campaign. 'We'll do it the same way,' he said.
Trump kept his focus on election night – the evening in 2016 that he beat Hillary Clinton in a shocking upset when polls showed her leading in the race.
He recounted the story of how state after state was called for him instead of Clinton.
'Was there ever as anything as big?' he said of the evening.
Trump stopped in Michigan earlier Sunday before he held his closing event and made his appeal for a second term to Michigan voters with a beautiful sunset behind him.
'I'm fighting to survive,' he told the crowd at a chilly rally in Traverse City on Monday night, his third of the day.
The president wasted no time asking for the state to vote for him, as it did in 2016, and knocking Democratic rival Joe Biden, comparing him to his last opponent Hillary Clinton.
'Now we have a guy that makes Hillary look like a baby,' he said of Biden.
'He is a very weak fragile - he is a fragile person and he's very agitated,' he said of his rival. 'And now he comes out with the aviator glasses. He wants to look like Tom Cruise from a long time ago.'
Trump won the state, which is part of a Midwest group known as the 'blue wall', in a victory that shocked Democrats four years ago. He also took Pennsylvania and Wisconsin – the three states hadn't voted for a Republican presidential candidate in more than 20 years.
He is looking to repeat that sweep in Tuesday's election.
'We want the same results we had four years ago in Michigan,' he told supporters. 'If we win Michigan, it's over. You are going to be watching some very good television tomorrow night.'
Vice President Mike Pence joined the president to wave the crowd in front of the setting sun.
'Look at the sky. Let's just look at the sky for a little while,' Trump said as he gazed upward.
The president claimed he brought high ratings for the media and that would end if Biden won. He predicted The New York Times would close if Biden wins. He also said ratings for the basketball championship are down because people are watching his rallies instead.
'The ratings are bad because so many people are watching this,' he said.
He attacked Biden's policies repeatedly, claiming they would hurt Michigan's auto industry.
'A vote for Biden is a vote to eradicate the state's auto industry,' he warned as the crowd booed.
Biden and former President Barack Obama held their first appearance of the 2020 campaign in Michigan on Friday, where they reminded voters they saved the auto industry with a bailout during the recession.
Trump repeated his argument Biden is a 'corrupt' politician and told the crowd: 'Biden is the living embodiment of the decrepit and duplicit political system - they got rich while bleeding America dry.'
'Drain the swamp,' the crowed shouted.
'They're going to be knocked off very soon,' Trump said.
'Joe Biden is bought and paid for by big tech big media and powerful special interests,' he said. 'He will always do whatever they want.'
He added: 'I definitely don't do what they want.'
He also complained about his treatment in Washington, specifically mentioning the impeachment trial and Senator Mitt Romney's vote to convict him on one count. Trump was cleared of both charges by the entire Senate.
The crowd booed at Romney's name. Romney's father was governor of Michigan and his niece, Ronna Romney McDaniel, is from the state and serves as chairwoman Republican National Committee.
Trump praised McDaniel's work.
'She has done a fantastic job,' he said.
She rallied the crowd to vote.
'Lightening struck four years and we blew the minds of the media and the world when we delivered Michigan for President Trump. Are you ready for lightening to strike twice,' she said.
Earlier Monday, Trump stopped in Joe Biden's hometown of Scranton on Monday to attack his Democratic rival's energy policy, warning it would be an 'economic disaster' to Pennsylvania.
Trump repeated his claim Biden will ban fracking, which Biden has said he will not do. Fracking is a major industry in the state.
'Biden's plan to cut fracking will be an economic disaster for Pennsylvania,' he said as the crowd of several thousand booed.
He and Biden are battling it out for Pennsylvania – where Biden was born and Trump went to college. The state's 20 electoral votes will help decide the winner of the White House. Polls show Biden with a slight lead but Trump became the first Republican in more than 20 years to win it when he took the state in 2016.
'He left Scranton,' Trump told the crowd of Biden. 'This guy is a stone cold phony.'
Biden, in speeches on the campaign trail, tells of how he was born in Scranton but his family had to leave the area when he was young because his father lost his job.
'Joe has no clue,' Trump said. 'Joe's not calling the shots. And I guarantee he won't be calling them for very long.'
The president has criticized Biden's mental and physical abilities. Biden is three years older than him.
All four members of Team Biden – Joe Biden, Jill Biden, Kamala Harris and Doug Emhoff – are barnstorming Pennsylvania on Monday. Biden will hold a rally with Lady Gaga. John Legend will appear with Kamala Harris.
Trump knocked Biden for campaigning with Lady Gaga, who also cut an ad urging people to vote for the Democratic nominee.
He's got Lady Gaga,' he said as the crowd boos.
'I could tell you stories about Lady Gaga,' he said and randomly added: 'And Jon Bon Jovi – every time I see him he kisses my ass.'
He also said he felt bad for LeBron James because basketball ratings were so bad and added: 'I didn't watch one shot. I get bored.'
Trump praised the thousands who came out to see him on a cold, windy day.
'This does not look like a second place finish,' Trump told his second campaign rally of the day at the Scranton-Wilkes Barre airport.
'I think we are going to have a tremendous day tomorrow,' he said. 'There is much more enthusiasm for this campaign than there was four years ago.'
When the crowd shouted 'we love you,' Trump asked them jokingly not to make him cry, saying the media would claim he broke down: 'I dunno, hey maybe that would lift you up, right? You pick up 10 points for crying. I still don't wanna do it.'
'What a crowd. I have three more of these to do you want me to stay with you all day,' Trump told them. He has three more rallies scheduled for Monday.
He then criticized – as he has many times – a Supreme Court decision to allow the state to extend its deadline to count mail-in ballots for three days after the election. The 2016 contest in the state was extremely close – Trump won Pennsylvania by less than 1 point – so the ruling was a blow to him and a boost to Democrats.
Trump said the ruling 'made a dangerous situation' and a 'very bad situation for the state.'
He said his team would be keeping an eye on the vote count and on Democratic Gov. Tom Wolf.
'Please don't cheat governor. Please don't cheat. Because we're all watching. We have a lot of eyes on the governor and his friends,' he said. On Sunday, Trump said his campaign was ready to send in lawyers on election night to dispute ballots.
The president rehashed complaints he has regularly made on the campaign trail – about polls (which show him trailing Biden), about the media (he thinks they don't cover Biden hard enough) and the tech industry.
'I know what trending is better than anyone in the world. I've been trending my whole life,' he bragged.
He also gave a shout out to Nigel Farage, the leader of the Brexit Party in England, who was at the event.
Trump made direct appeals to the voters in the state – particularly suburban women, a group that helped him win the White House but slowly moved away from him, helping Democrats win the House in the 2018 midterm.
'Love me women of the suburbs. Love me,' the president said.
Trump started off his final day of campaigning with an old litany of complaints – against the polls, against Biden, against the media, against his impeachment trial, and even against his 2016 foe Hillary Clinton.
The president is holding five rallies in four states ahead of Election Day to make his closing argument to voters for a second term.
'Get out and vote that's all I ask,' he told the crowd at his first of five rallies.
'We have five of these today – five. We have some big ones,' he told his first stop in Fayettsville, North Carolina, of his schedule for the day.
His remarks were a recant of all the wrongs he believes has been done against him while he's been in the White House. The president has previously complained about a 'deep state' conspiracy in the government working against him.
'I've been under investigation since before I became president. I have to be tough,' he said. 'I have a cloud hanging over my head whether I like it or not.'
And he pushed back against those who said he's nasty in his online posts, saying he has to defend himself.
'He is very very nasty. His twitter,' he said of what his critics say. 'If I didn't have social media I wouldn't be here. I have to be able to defend myself.'
He slammed Biden's mental abilities. Trump has called himself a 'very stable genius' and, during the debates, challenged Biden to take a cognitive test, which does not measure intelligence.
'He is not mentally equipped to be your president,' he said of Biden. 'He is not a nice person, he was never a smart person, he is a touchy feely person.'
The president,wearing a red 'MAGA' hat against the windy day, also went on an extended rant against the polls as the final ones out ahead of the election show Biden in the lead.
'I hope I haven't bored you,' he told the crowd in North Carolina when he finished. 'I thought it was interesting. To me it was interesting.'
We will dethrone the failed political class,' he vowed as the crowd cheered.
The president again called for the results of Tuesday's contest to be announced that night. The winner may not be known for a few days because of the high number of people using mail-in ballots due to the coronavirus pandemic.
The Supreme Court has upheld extended deadlines to count ballots in several states – a blow to the Republican Party.
'I'm just so tired of some of these horrible political decisions that are being mad,' he said of the Supreme Court, where he has appointed three justices. He said the court's decision on extended deadlines 'puts our country in danger.'
But most of his remarks were a grievance list, featuring complaints and criticism the president had made for the past four years.
Trump repeated his complaint about 'spying' against his last presidential campaign – referring to an FBI counter intelligence investigation into whether Russia was trying to influence the election.
He also complained Joe and Hunter Biden don't get enough critical media coverage and brought up Hillary Clinton's emails.
'Lock him up' and 'lock her up' the crowd yelled back.
'If I've done one thing it's expose the dishonesty in the media,' the president announced.
He criticized the media for not covering items found on a laptop allegedly belonging to Hunter Biden and showing emails between him and Ukrainian officials dated back to when his father was vice president. There have been concerns the information has not been verified and could have come from Russia.
'They refuse to write a story,' Trump said of the media and Hunter's emails. 'You can't have a scandal if nobody writes about it.'
Dailymail